H
et is vanzelfsprekend dat wij alle facetten met betrekking tot een crematie of begrafenis nauwgezet en in overleg met de familie verzorgen. Zodat de nabestaanden goed en tevreden terugkijken op de crematieplechtigheid of begrafenis.

Hiervoor hebben wij goed opgeleide uitvaartverzorgers in dienst en zijn we 24 uur per dag telefonisch bereikbaar. U zult ook altijd één van de uitvaartverzorgers aan de lijn krijgen.
In principe zijn het de nabestaanden die aangeven hoe de plechtigheid van hun dierbare zal worden uitgevoerd. Wij, als uitvaartverzorgers, geven aan die uitvoering handen en voeten. Dit is eigenlijk altijd zo geweest. Alleen durven de nabestaanden zich meer te uiten naar de uitvaartverzorger toe.

Wij hebben een mooie collectie uitvaartkisten op voorraad (van goedkoop tot duur).
Met andere woorden geeft Consuelo Memorial u het vertrouwen en wij zorgen voor een uitvaart zoals u dat wenst.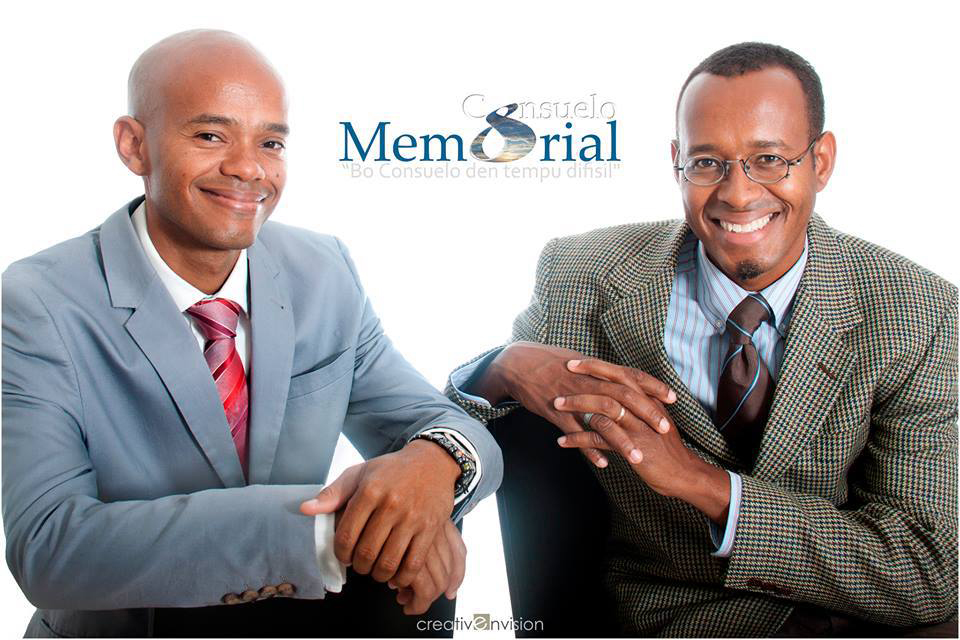 H
et verschil tussen hoe het bedrijf eerst was en wat je hier nu ziet is onvoorstelbaar. Het uitvaartcentrum was van 2005 tot 2012 in het hart van de hoofdstad Kralendijk. Het kantoor was een prefab tuinhuisje. De mensen overleggen liever niet in dezelfde ruimte als waar mogelijk een overledene ligt opgebaard. Daarom was er dat bouwseltje op het erf geplaatst, naast het eigenlijke rouwcentrum. Dat maakte ooit deel uit van een voormalig nonnenklooster.


In Juni 2012 verhuisde 'Nos Consuelo' naar schitterende nieuwbouw "Consuelo Memorial": een strak en modern uitvaartcentrum aan de rand van Kralendijk.


Er werd samen met de architect goed over nagedacht. Het design is strak en modern, het ontwerp ziet er zo weinig mogelijk uit als een uitvaartcentrum. Het gebouw heeft vier functies die strikt van elkaar zijn gescheiden. We kennen intussen de gevoeligheden bij de bevolking. Wie hier binnen komt merkt waarschijnlijk niet dat hij bij een uitvaartcentrum is! Vanaf de voordeur loopt een lange lichte gang die je langs een moderne en rustgevende receptiebalie voert. Daarna komt de bezoeker langs de kantoorruimte en dan via een open ruimte met een tropische boom naar de andere faciliteiten zoals sanitair, kantine, patio en rouwkamer. Dat is niet alleen symbolisch maar ook functioneel. Mensen voelen zich ontspannen als ze hier binnenkomen.


Consuelo Memorial werkt langzaam toe naar een modernere vorm van uitvaart en wil de gemeenschap van het eiland iets moois bieden. Nu Bonaire een deel van Nederland is geworden, moet in het nieuwe uitvaartcentrum zowel de Bonairiaan als de Nederlander, maar ook mensen van andere afkomst zich goed voelen.
I
edere uitvaart is uniek. Voor de een is dit noodzakelijk, voor een ander is dat weer heel iets anders. Zelfs een uitvaart die geheel in stilte plaatsvindt, kan voor de nabestaanden heel erg indrukwekkend zijn, zelfs zonder muziek en sprekers en zonder bloemen, daar waar anderen weer uitbundig kunnen zijn. Het moet natuurlijk wel bij de overledene passen