It goes without saying that we take care of all aspects relating to a cremation or funeral meticulously and in consultation with the family. So that the next of kin can look back on the cremation ceremony or funeral well and content.

For this purpose we employ well-trained funeral directors and we are available 24 hours a day by telephone. You will also always have one of the funeral directors on the line.
For this we employ well-trained funeral directors and are available by telephone 24 hours a day. You will also always get one of the funeral directors on the line.
In principle it is the next of kin who indicate how the ceremony of their loved one will be performed. We, as funeral directors, give hands and feet to this execution. In fact, this has always been the case. Only the next of kin dare to express themselves more to the funeral director.


We have a nice collection of funeral boxes in stock (from cheap to expensive). In other words, Consuelo Memorial gives you the confidence and we take care of a funeral as you wish.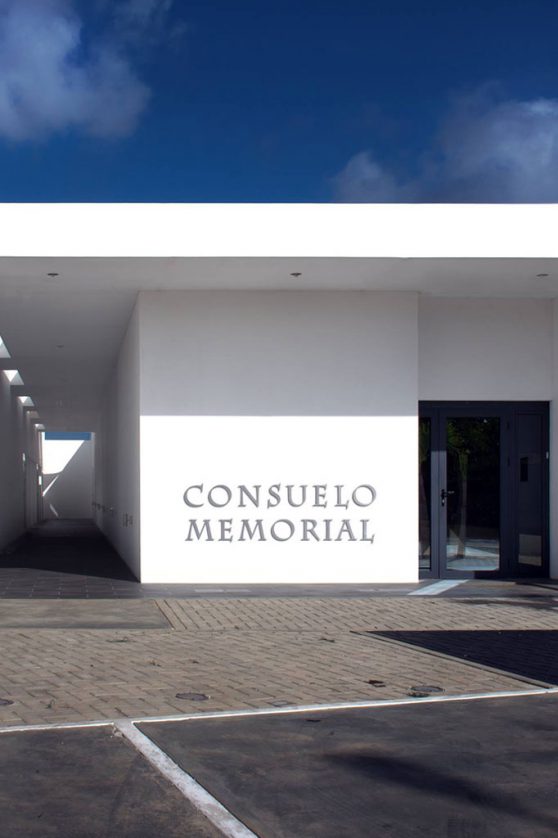 The difference between how the company used to be and what you see here now is unimaginable. The funeral home was in the heart of the capital Kralendijk from 2005 to 2012. The office was a prefabricated garden shed. People prefer not to confer in the same room where a deceased person may be in state. That is why that building was placed in the yard, next to the actual funeral home. It was once part of a former nunnery.


In June 2012 'Nos Consuelo' moved to the beautiful new building "Consuelo Memorial": a sleek and modern funeral home on the outskirts of Kralendijk.


It was well thought out together with the architect. The design is sleek and modern, the design looks as little as possible like a funeral home. The building has four functions that are strictly separated from each other. We now know the sensitivities of the population. Whoever comes in here probably will not notice that he is at a funeral home! A long, light corridor leads from the front door, which takes you past a modern and relaxing reception desk. Then the visitor passes the office space and then through an open space with a tropical tree to the other facilities such as sanitary facilities, canteen, patio and funeral home. That is not only symbolic but also functional. People feel relaxed when they come in here.


Consuelo Memorial is slowly working towards a more modern form of funeral and wants to offer something beautiful to the community of the island. Now that Bonaire has become part of the Netherlands, the new funeral home should make both the Bonairian and the Dutch, as well as people of other origins, feel good.
Every funeral is unique. For one this is necessary, for another it is something completely different. Even a funeral that takes place completely in silence can be very impressive for the next of kin, even without music and speakers and without flowers, where others can be exuberant. It must of course suit the deceased