Can I help with the final care?
Yes, this is certainly possible.
You can do almost everything yourself, eg carry the coffin, help close the coffin, help close the grave, etc. As long as you indicate it in advance to the funeral director.
After how many days must the funeral or cremation take place?
A deceased person must be buried or cremated within 6 business days of death, but no earlier than 36 hours after death. In exceptional cases, we can request a postponement.
What should I do if someone dies?
You must first call the doctor on duty and then call the Funeral Care Consuelo Memorial to discuss the final care and / or transport and arrange a time to arrange the entire funeral.
Can the funeral costs be paid in installments?
No, unfortunately that is not possible. Funeral expenses must be paid 24 hours before the funeral. If you are insured, you must ask your insurer how much they will pay out for the funeral, the difference must be paid before the funeral.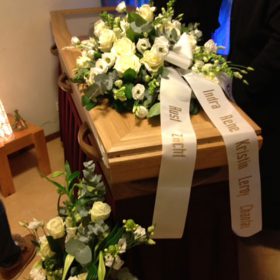 There will also be a number of things that you simply do not think about so quickly. We can help you with this. You can visit us by appointment to make an inventory of your wishes and put them on paper. Our offer to help with this for free remains!